Welcome to the Haru Matsu Bokura Wiki!
This wiki is dedicated to Haru Matsu Bokura (春待つ僕ら) also known as We Hope For Blooming or Waiting For Spring, written and illustrated by Anashin. We currently have 2,168 edits to 47 articles and 266 images on this wiki. 
Mitsuki had always dreamt of breaking out of her shell and finding true friends as she enters high school. However, she suddenly encounters a group of four good-looking guys from the basketball team, guiding her into an unexpected direction...? A story about good-looking men and the insanity of youth!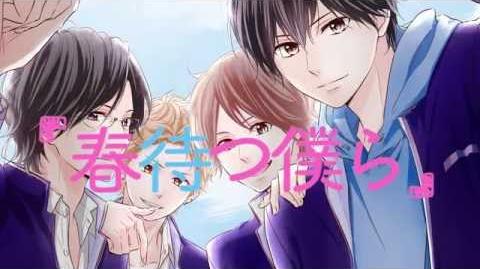 "

Aya-chan, I'll become strong. I'll make friends like you. I know I can do it. I want to make lots of fun memories in high school .

"
Who is your favorite male character?
Ad blocker interference detected!
Wikia is a free-to-use site that makes money from advertising. We have a modified experience for viewers using ad blockers

Wikia is not accessible if you've made further modifications. Remove the custom ad blocker rule(s) and the page will load as expected.